Throughout the month of February the GOBCC will be collecting non-perishable food items to donate to Tiger Pantry. A list of the most needed items can be found here or on tigerpantry.missouri.edu. A drop off bin will be available in the GOBCC or the following student organizations will be collecting items on behalf of the food drive: 
National Association of Black Journalist
Delta Sigma Theta Sorority, Inc.
Omega Psi Phi Fraternity, Inc.
Target HOPE
United Ambassadors
LBC Gospel Choir
Kappa Alpha Psi Fraternity, Inc.
National Association of Black Accountants
Mizzou Black Women's Initiative
Black Business Student Association
If you have any questions, please contact the GOBCC at 573.882.2664.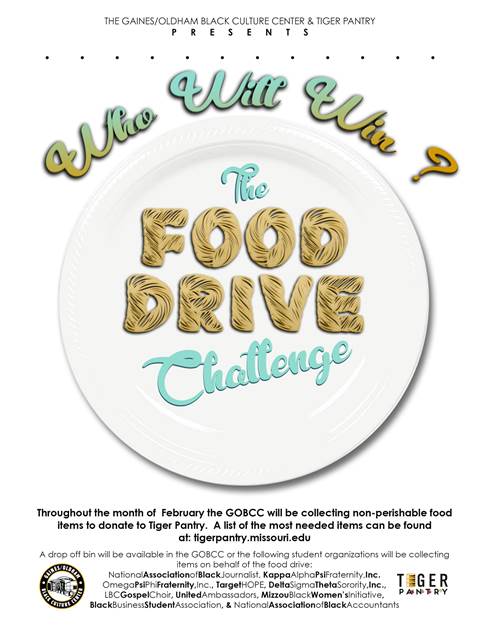 [twitter url="https://gobcc.missouri.edu/2014fooddrive/" style="horizontal" source="GOBCC" text="Currently accepting donations for the 2014 Food Drive Challenge. Learn how you can contribute here" float="left"]