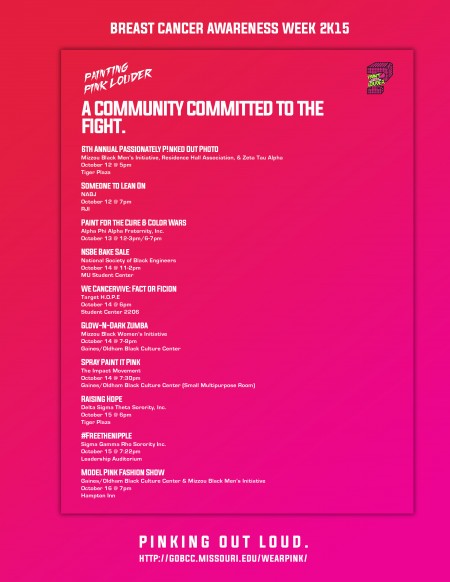 BREAST CANCER AWARENESS WEEK 2015
6th Annual Passionately P!nked Out Photo
Mizzou Black Men's Initiative, Residence Hall Association, & Zeta Tau Alpha
October 12 @ 5pm
Tiger Plaza
Come show your support for the fight against breast cancer at the 6th Annual Passionately P!NKed Out Photo. Arrive early to get a great spot for the photo and don't forget to WEAR PINK!
Someone to Lean On
NABJ
October 12 @ 7pm
RJI
Getting through tough times is something that no one should have to do alone. Today NABJ-MU will reveal it's mentor/mentee pairings, and discuss the importance of having a peer to lean on, and what it should look like when you're supporting someone through personal hardships. A mentor doesn't simply exist to assist someone through their academic success. They are present for a lifetime of support through all realms.
Legion of Black Collegians Gospel Choir
The Legion of Black Collegians Gospel Choir will be participating in Breast Cancer Awareness Week in the form of a fundraiser during the week. The choir will be stationed in the MU student center with bands for sale. Choir members are also accepting donations and a large percentage of the funds raised will be donated toward breast cancer research.  Bands will be $1
---
Paint for the Cure & Color Wars
Alpha Phi Alpha Fraternity, Inc.
October 13th
12-3pm/ 6-7pm
Come join the men of Alpha Phi Alpha in the Student Center and paint a portion of your hair pink in solidarity of Breast Cancer Awareness from 12-3pm. Then later that evening come in a white to learn about the different types of cancers that affect the community followed by a color paint war with a group picture to end the day.
---
NSBE Bake Sale
National Society of Black Engineers
October 14 @ 11-2pm
MU Student Center
We Cancervive: Fact or Ficion
Target H.O.P.E
October 14th
6pm
Student Center 2206
Target H.O.P.E will be hosting a Fact or Fiction seminar to engage in depth conversation about breast cancer and clarify many of the myths about the illness. There will be pastry decorating and photo ops to show everyone's support of Breast cancer.
Glow-N-Dark Zumba
MBWI
October 14th
7-9pm
Wear glow in the dark attire for a facilitated Zumba session.
Spray Paint it Pink
The Impact Movement
October 14 @ 7:30pm
Gaines/Oldham Black Culture Center (Small Multipurpose Room)
---
Raising Hope
Delta Sigma Theta Sorority, Inc.
October 15 @ 6pm
Tiger Plaza
Raising Hope is an event that is purposed to allow for fellowship amongst people who have been impacted by Breast Cancer. It will involve a brief session in which we will allow people to share their stories to offer support for others currently dealing with similar issues. The event will be commemorated by a balloon release in which participants will tie a message to the end and release it into the sky.
#Freethenipple
Sigma Gamma Rho Sorority Inc.
October 15 @ 7:22pm
Leadership Auditorium
Discussion about breast cancer awareness and controversial issues surrounding the nipple and breastfeeding.