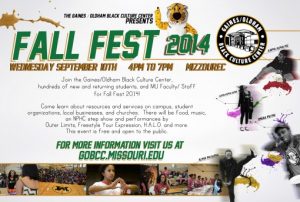 Fall Fest 2014 is an annual event hosted by the Gaines/Oldham Black Culture Center introducing incoming students of color to student organizations, faculty/staff, University departments, and Columbia businesses.  This event attracts more than 1,000 new and returning students from the Mizzou community. Fall Fest features performances by the National Pan Hellenic Council (NPHC) Greek Organizations, tables about various organizations and departments, and local Columbia businesses such as barbershops, hair salons, and churches.
This is an excellent opportunity to show the campus community what your organization, department or business is about, advertise your services, and recruit new members/customers.
**Please note that tables WILL be shared with another registered group.