We challenge YOU to give the "Gift of Life" by donating blood at the 4th Annual Blood Brothers Blood Drive. The drive will take place Wednesday, January 29th  from 9am – 3pm in Stotler Lounge I – Memorial Union. This blood drive is open to the public. Walk-ins are welcome but appointments are encouraged. To make your appointment for the Blood Brothers Blood Drive, please follow directions below.
1. Click the registration http://redcrossblood.org/.
2. If you are already registered with the Red Cross, sign-in, if not then you need to register as a new user.
3. Select your desired appointment time and follow directions to complete your appointment.
Sponsored by: Mizzou Black Men's Initiative, Alpha Phi Alpha Fraternity, Inc., Kappa Alpha Psi Fraternity, Inc., Omega Psi Phi Fraternity, Inc., Phi Beta Sigma Fraternity, Inc., Lambda Theta Phi Latin Fraternity, Inc., and the Gaines/Oldham Black Culture Center – Department of Student Life.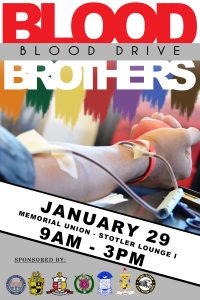 [twitter url="https://gobcc.missouri.edu/bloodbrothers2014/" style="horizontal" source="GOBCC" related="MUBMI" text="2014 Blood Brothers Blood Drive | Jan 29 | 9a-3p | Save a life & donate blood. Pre-register here" float="left"]