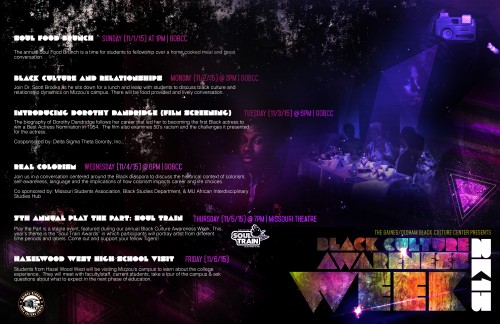 Black Culture Awareness Week 2015
Soul Food Brunch
Sunday (11/1/15) @ 1pm
GOBCC
The annual Soul Food Brunch is a time for students to fellowship over a home cooked meal and great conversation.
Black Culture & Relationships
Monday (11/2/15) @ 3pm
GOBCC
Join Dr. Scott Brooks as he sits down for a lunch and learn with students to discuss black culture and relationship dynamics on Mizzou's campus. There will be food provided and lively conversation.
Introducing Dorothy Dandridge (Film Screening)
Tuesday (11/3/15) @ 6pm
GOBCC
The biography of Dorothy Dandridge follows her career that led her to becoming the first Black actress to win a Best Actress Nomination in 1954. The film also examines 50's racism and the challenges it presented for the actress.
Cosponsored by: Delta Sigma Theta Sorority, Inc.
Real Colorism
Wednesday (11/4/15) @ 6pm
GOBCC
Join us in a conversation centered around the Black diaspora to discuss the historical context of colorism, self-awareness, language and the implications of how colorism impacts career and life choices.
Co sponsored by: Missouri Students Association, Black Studies Department, & MU African Interdisciplinary Studies Hub
7th Annual Play The Part: Soul Train Awards
Thursday (11/5/15) @ 7pm
Missouri Theatre
Play the Part is a staple event, featured during our annual Black Culture Awareness Week. This year's theme is the "Soul Train Awards" in which participants will portray artist from different time periods and labels. Come out and support your fellow Tigers!
Hazel Wood West High School Visit
Friday (11/6/15)
Students from Hazel Wood West will be visiting Mizzou's campus to learn about the college experience. They will meet with faculty/staff, current students, take a tour of the campus & ask questions about what to expect in the next phase of education.